Your Experian Credit Report and FICO® Score* are completely free.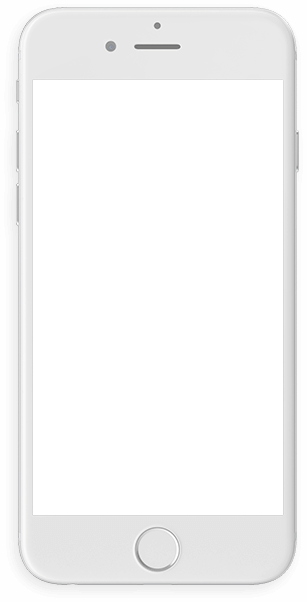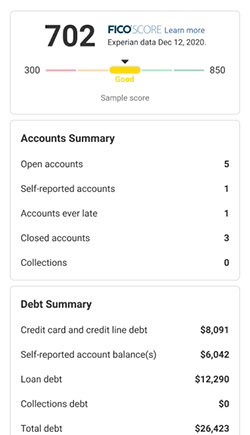 No credit card required. Your free report and score are updated every 30 days on sign in.
Why get your Free Experian Credit Report?
Gain credit insights
View the same type of information that lenders see when requesting your credit. See who's accessing your data and get tips on how to improve your financial health.
View your score factors
Your credit score is calculated from the information found in your credit report. See the positive and negative factors that impact your FICO® Score.
Raise your credit scores instantly
Get credit for your phone and utility bills by adding positive payments to your Experian credit file.
Average users who received a boost improved their FICO® Score 8 based on Experian Data by 12 points. Some may not see improved scores or approval odds. Not all lenders use credit information impacted by Experian BoostTM.
Find New Credit Options
Want a lower rate on a credit card? Maybe you're looking for a personal or debt consolidation loan. Either way, our Offers Marketplace has many attractive offers to choose from.
View Credit Offers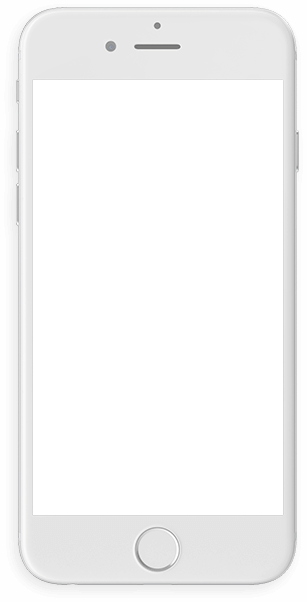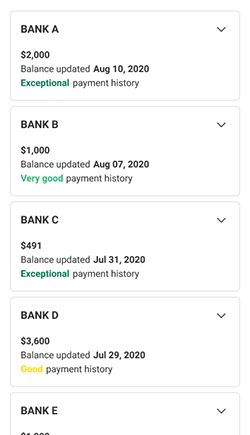 Quick and Easy Sign Up
No credit card needed, just sign up to get instant online access to your free Experian credit report and FICO® Score.
No Credit Card Required
® Score
Free Experian Credit Report and FICO
Updates Every 30 Days on Sign In
Dispute online for free
Sign Up Now for Free
Credit Report 101
From the latest information on Credit Reports, Identity Theft, to videos and credit calculators, our blog is an excellent resource for helping you navigate "all things credit."
Infographic: Reading a Credit Report
New to checking your credit report information? It can be confusing if you've never checked your credit report before, or it's been a while. Review our list for a quick...
Why Checking Your Credit Report Is Important for All Stages in Life
Your credit profile is maintained by the three credit bureaus. It's what you could call a living document. Each month, your creditors report how you've managed your financial...